5 ways to get noticed on LinkedIn
We search through dozens of LinkedIn profiles every day to find the perfect candidates for our clients. It still amazes us how many people don't personalise their profiles, especially when three people are hired through LinkedIn every minute.  
According to a 2021 survey, 86% of job seekers now use social media in their job search. So, in a saturated marketplace, how do you make your profile stand out? 
Trawling through LinkedIn has taught us many things, from quick wins you can implement in seconds (like adding a profile picture), to longer-term strategies to standing out.  
Here are five ways to get noticed on LinkedIn:  
1. Write an eye-catching headline  
Why 
Your headline should be more than just your job title. Think how many headlines recruiters and companies see on a daily basis – you don't want to be just another 'Frontend Developer at XYZ.' This is your first opportunity to make a lasting impression – so make the most of it! 
How  
 Use this space to creatively sum up who you are and what makes you tick. We want to see what you're passionate about and why you're great at it.  

Don't underestimate emojis. An apt emoji can help make you stand out amongst a sea of bland job titles. an emoji will also allow you to weed out the automated versus genuine messages from recruiters.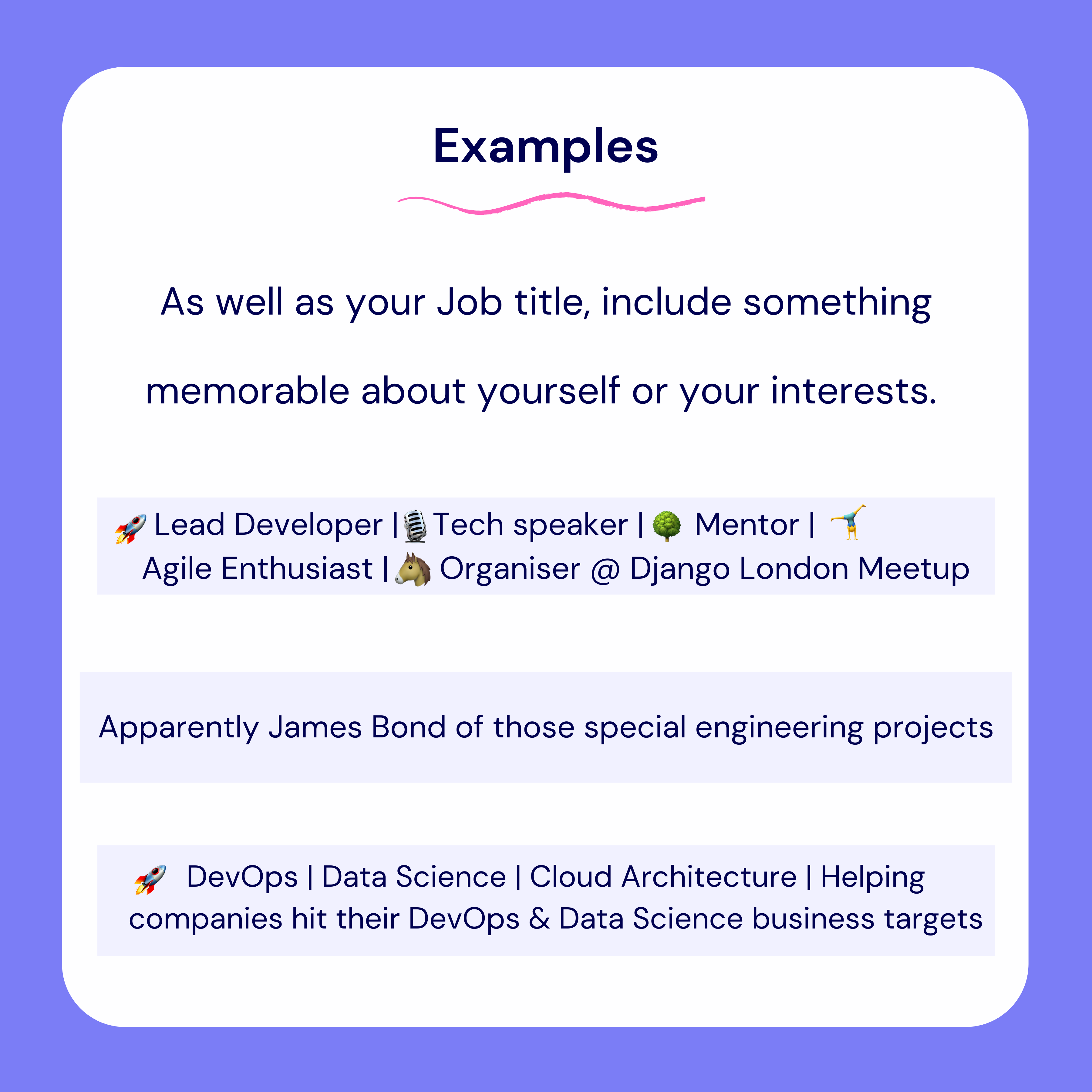 Openly looking for a new role? Use your headline to let potential employers know! Include the type of role you want, your location and availability. You can also add the 'open to work' frame to your profile picture! 
2. Use your summary to tell your story  
Why 
This space is your opportunity to tell your story and inject some personality into your LinkedIn profile. Continue the personal branding you've teased in your headline to show that you know who you are and what you want.   
How  
Instead of just listing your skills, highlight why they really matter and what impact they've enabled you to make so far.  

Communicate why this is important to you, as well as the personal values you're looking for in an organisation. Lots of brands and recruiters (like us) prioritise value alignment and cultural fit over all else, so this is a great place to showcase yours.  

Don't forget, LinkedIn is a search engine, which means you should be thinking about SEO. Your summary is your biggest opportunity to incorporate key words and industry lingo so the right people can find you. Think about exactly what it is they'll be looking for, and make sure you're it!  
3. Write value-focused role descriptions 
Why 
Elaborating on previous positions helps put a spotlight on what you can offer to perspective businesses. Rather than just writing your role title and a list of responsibilities, explain how you've brought value to the company, product and team in your role.  
How  
Talk about your proudest achievements - what are the five most valuable things you've done in your role? Where possible, use tangible data to quantify your impact.   

Add any courses you've completed, including official licenses and certifications at the bottom of your page.   

Reach out to old colleagues and ask them to write recommendations and tick off some 'skills and endorsements' to reinforce your claims. Written testimonials are also a good indicator of what you're like to work with, which is always good to see.  
4. Share examples of your work  
Why 
It's important to share as many examples as possible to give viewers a flavour of your work. That way, potential employers can get to know you and your style before you've even had the chance to chat.  
How  
Make sure these are seen by placing prominent links to your github, personal website or portfolio throughout your page.  

Include links to the websites you've worked on in your role descriptions, too.  
5. Spark conversations by sharing relevant content  
Why 
The best way of illustrating your values and getting noticed by potential employers is sharing content. This shows that you're active on LinkedIn and interested in sparking conversations. You never know who might end up seeing your posts, too! 
How  
Whether it's articles you've written or just topics that resonate with you, get sharing.  

Given a talk recently? Even better! Share a video of your talk to give employers a real sense of who you are and what you care about. 

Make sure you comment, like and share other people's content too, especially from companies you love or business leaders you look up to.  
Have we missed anything? We'd love to hear your LinkedIn tips and tricks! Let us know on Twitter, LinkedIn, or at contact@confidotalent.com.  
Get in touch.
We'd love to hear from you.
Get in touch.
We'd love to hear from you.