How to make candidates an offer they can't refuse
On average, a hiring process will require between 20-35 hours of effort from all parties involved. That's factoring in a minimum of 3 interview stages, prep time, debriefing and feedback across the candidate, hiring team and recruiter.  
Candidates will probably be juggling multiple interviews at once (one candidate we worked with had attended 41 interviews in four weeks), so it's unlikely that yours will be the only option on the table. 
So, you've spent all this time finding the perfect candidate, but how do you ensure you make them an offer they can't refuse? 
Here are our top tips... 
Manage expectations throughout the process 
In our experience, the main failure point in the hiring experience is a lack of expectation management. Unclear expectations, or those that shift throughout the interview process, can lead to confusion and disappointing results for both sides. The big one here is salary, but it's also applicable to areas like candidate performance and role responsibility. The key is to identify those expectations straight off the bat, then continuously manage them throughout the process.  
It is natural for expectations from both the candidate and company to change throughout the process. The candidate may start getting interviews or offers at a higher salary bracket after entering your process. Companies may find candidates are not performing as well as initially expected.  
A good interview process should constantly monitor for any changes in expectations through transparent feedback at every stage. The onus is on the recruiter or hiring company to identify and manage the candidate's expectations.  
Here's a common example: a Senior Developer completes the tech assessment for a company, which grades them as Mid-level instead of Senior. This is an opportunity for the hiring company to give the candidate detailed feedback and explain that they've performed below expectations of a Senior, which will or may (depending on the hiring framework) affect the salary they'll be offered. If the candidate is unhappy at a potentially lower salary, they can withdraw and it saves both party's time. If the candidate is happy to proceed, then this has helped set expectations that at the end of the process the offer made will be lower than initially expected. 
Make sure you understand their motivations (and that you can match them) 
In order to ensure your offer is as enticing as possible, you need to understand what best motivates candidates. You need to know why they're leaving their current role and what exactly it is that they want next.  
You need to be clear on their future career aspirations, where they want to develop their skills, what they enjoy and don't enjoy and how all of those components add up to align with the opportunity that you can offer them. 
Like salary expectations, it's important you qualify their motivators early on in the process. The recruiter should do this before presenting their details and be able to talk through their motivators for looking and how this translates to your company. 
We like to identify three things that the candidate is looking for within the new role to make sure they won't face the same obstacles or frustrations they're dealing with in their current role.  
While people have individual needs and motivations, it's also worth monitoring trends in employee satisfaction, as priorities do shift over time. Learn more on that in our previous blog post. There are plenty of resources and surveys out there that can help, like Stack Overflow's 2020 Developer Survey.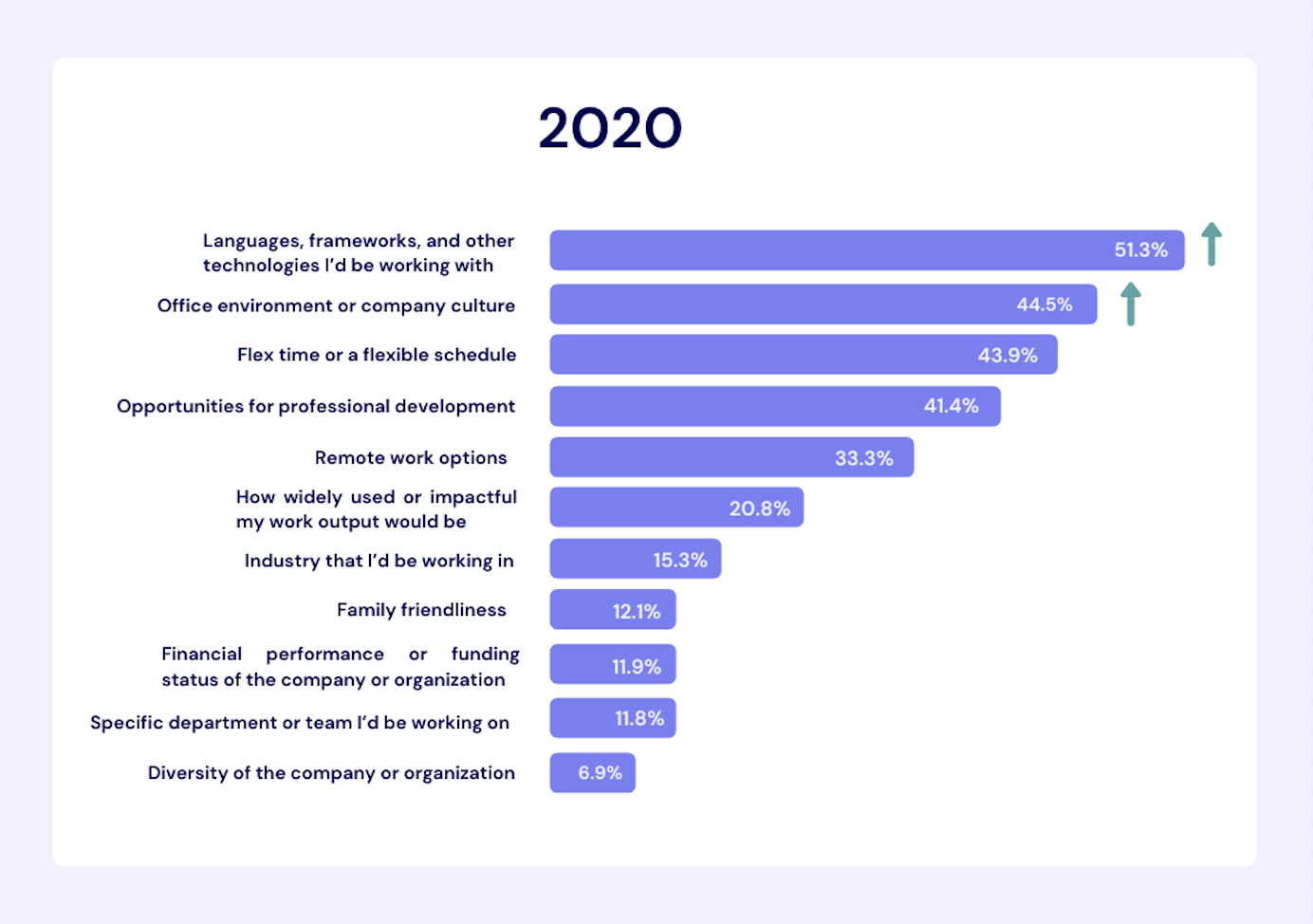 Stack Overflow 2020 Developer Survey 
Brush up on your benefits 
If you're not able to offer a massively competitive salary, you need to consider how you will compensate for this. Offering equity is a common way to offset salary. People will also be more likely to be flexible if the role gives them an opportunity to do something they can't do elsewhere. 
There's a whole host of benefits you can offer alongside salary and a strong progression path. These include:  
Remote working 

Flexible hours  

High pension contribution 

Healthcare and dentalcare  

Extended maternity and paternity leave  
Research market standards and think about what you can do differently. If you don't have a huge budget for benefits, there are a number of free/inexpensive initiatives you can run like giving birthday's off, developing fun CSR projects and monthly meetups.   
It's all about the delivery  
Don't underestimate how important your offer delivery is. But before you get to that, take the time to do one final feedback wrap-up. As we've already mentioned, you should be providing thorough feedback at each stage, but we recommend reinforcing how the process has panned out once it's complete.  
Let the candidate know what they did well, where you identify strengths and how that feeds into the impact they will have if they choose to join. Also highlight areas where they could have performed better and why, alongside how could you help them improve that skill.   
Next, once you're ready to make them an offer, we recommend taking the following steps:  
Reiterate how the company aligns with their motivators and how this role can help them reach those goals.  
Make the offer and explain your reason for doing so E.G, how you got to that number. 
Explain the other benefits this role encompasses E.G, clear progression and any of the benefits mentioned above.  
Let them know what happens next if they do accept your offer E.G, if you'll need to contact references, when they'll receive the employment contract etc.  
This is best done on a call, then quickly followed up with an official offer letter via email. This letter should include everything discussed so the candidate has time to reflect on the benefits of accepting your offer. Also include more practical things like office location, working hours and who they'll be reporting into etc. 
Here's an example of a great offer letter. 
Once they get back to you to accept (fingers crossed), make sure your follow-up is swift. Set up next steps like start date and equipment as quickly as possible.  
Overall, you need to think about the experience the candidate will have. Like the interview process, how you handle this situation will paint a picture of what you will be like if they join and need you to make key decisions. 
Need a little hiring help? Drop us an email at contact@confidotalent.com, or get in touch on Twitter or LinkedIn. We'd love to hear from you. 
Get in touch.
We'd love to hear from you.
Get in touch.
We'd love to hear from you.